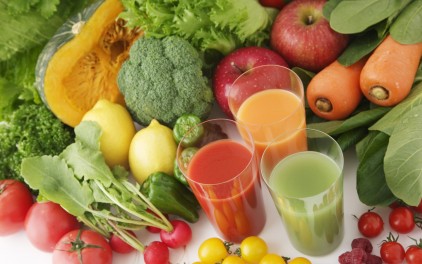 Juice fasting is a method of cleansing the body with only liquids. Juice fasting helps restore the body to health as well as rejuvenates the system. It eliminates dead cells and toxic waste products that cause sickness and sluggish feelings.
Juice fasting is safer than a water fast because poisons in the body are released into the blood stream more slowly., also juices contain the rebuilding and regenerating elements the body needs that cannot be found in water. The juices you can use can vary from apple, orange, or other citrus juices, grape, carrot or any mixed vegetable juice, or teas. Depending on the constitution of the person and their condition, it is not recommended to extend a juice fast beyond 3-5 days without a break in between. In between your Juices, drink lot of simple lemonade (warm Lemon water without salt. Lemon is great alkalizer). This helps lot to cleanse the system.  Always take fruit Juice in the first day. Carrot can also be taken on the first day. Fruits are cleansing and Vegetables are strengthening.
When coming off a juice fast you want to gradually introduce food into the system so as not to overburden it. Never eat cooked food right away. Gradually introduce fruits the first day, or so and then vegetables, then small portions of cooked foods.
Its always recommended to take an enema or colonic while one juice fast, as the bowels will not be inclined to evacuate as there is no bulk being supplied them.
If you choose not to use the enema, two teaspoons of powdered psyllium husks in a glass of water per day will help remove the toxins from the colon. The down side is that Psyllium husks are mucus-forming. Prune juice or senna tea also may be beneficial.  Psyllium swells into a soft gel when mixed with water. This gel absorbs toxins and speeds up the transit time of waste through the intestine assisting the reduction of toxic build-up during juice fasting.
WHAT JUICES ARE BEST FOR YOU
You may drink those juices that appeal to you the most. To find out your  favorites, try each of them! Fruit and vegetable  juices are the cleansers, energizers, builders, and regenerators of the human system. A combination of either fresh raw fruit or vegetable juices will supply all the enzymes, vitamins, minerals, protein, and fats critical to increased vitality!
HOW MUCH JUICE TO DRINK
Drink as much juice as you want. It good to drink enough juice at every three or four hours, in a day. The amount of juice you drink will determine the intensity of cleansing. Drinking small amounts of juice supplies fewer calories, thereby increasing detoxification. The more intense the cleansing, the greater the discomfort. Juice fasting allows you to have control over the process of elimination. However, when the body enters a cleansing crisis due to toxins in the blood, no amount of juice will eliminate the discomfort. You must wait it out. Best drink lot of pure water to flush out the toxins during that time.