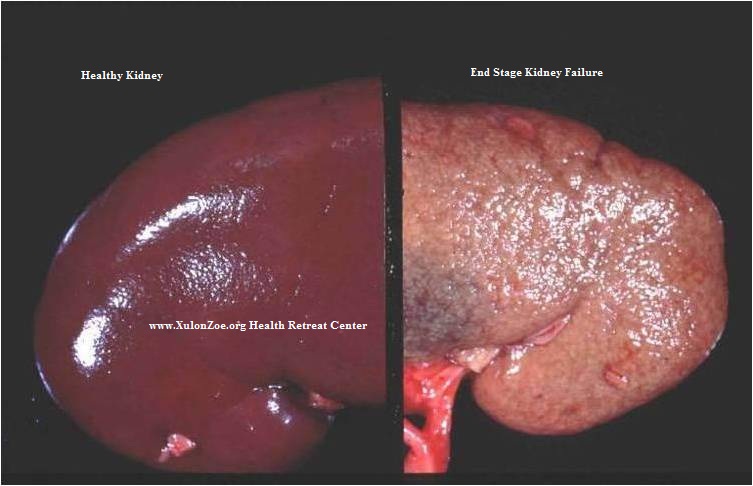 There are many causes of kidney damage. You must pay attention to those you can control. Fats and cholesterol in the diet promote atherosclerosis in the kidney arteries, which is one of the leading causes for failing kidneys. Add to this diabetes or high blood pressure and you invite almost certain kidney trouble by eating too well, but not at all wisely.
Sex, when properly used, has a good effect upon the body and health. The problem is that most people dont know, and are not taught, the proper use. first of all, sexual intercourse is served only for married people, and then only with the one you are married to until you are separated by death. Only at this time you have legal and moral liberty to choose another partner. In reality, the act of intercourse is marriage. We must avoid being guilty of polygamy.

When both the husband and wife are feeling well, and have had an opportunity to lovingly be in each other's presence for a few hours, the act of intercourse can be very relaxing and beneficial to the nerves and the health in general. It has to be an unselfish thing, and each one trying to give rather than receive. Only when both can reach a successful climax is the maximum benefit received. After the first year of marriage, this act should not take place more frequently than once a week to maintain the best of health. The woman is usually much slower to reach a climax than the man. The man must be considerate and patient to give his lover equal rights. In sickness or sorrow, willful abstinence should be practiced. Also, to prevent venereal disease and sin, it is important to abstain for seven days every month beginning with the first day of the menstrual period. Why? because God said so, and it is best for your health.

Some people may say that the pharmaceutical industry cannot be that bad. Unfortunately, it is. Fortunately, however, it is very easy for everyone to understand why this industry has such a detrimental effect on millions of human lives.

It is not about individual drugs or individual companies. It is about the principles – the laws – of the pharmaceutical 'business with disease'. The most important of these laws can be summarized in the following way:

Over $1 TRILLION a year is spent on medical treatment in America. Over $100 BILLION of this was spent on cancer treatment.

The average cost of cancer treatment is well over $100,000 per person. This year well over 1.5 million Americans will develop cancer, and over 600,000 of them will die from it, which means that in the last 5 years...

Medical treatment is America's biggest business, representing over 15% of the entire nation's Gross National Product.

The GAO (General Accounting Office  of the United States Government) has stated in numerous reports that in spite of increased usage of chemotherapy by medical doctors and hospitals in the treatment of cancer that they cannot find any statistical data that suggests it has any effectiveness in prolonging life.

"The only cure of a degenerative disease ever established, has been by a vitamin, mineral, or essential food factor. No prescription drug has EVER cured a SINGLE degenerative disease. While antibiotics can kill bacteria in the body and have no doubt saved lives that would otherwise have been lost since the discovery of penicillin, this does not mean that the bacteria is the CAUSE of the "disease" being treated nor does it mean that antibiotics are the BEST way to handle the situation because Klenner (MD)demonstrated way back in the fifties (published hospital studies, Southern Medical J) that intravenous vitamin C in megadoses kills off ANY infection known to man (including tetanus -lockjaw) without ANY harmful side effects. What is being treated when an antibiotice is used... is the SYMPTOM, not the disease, but that is another story for another day. To say that bacteria cause disease is like saying that the flies cause the manure pile and firemen cause house fires because each of the latter are found on the scene. Bacteria are EFFECTS.... not CAUSES."

~ Dr Duffy DC

"If all the medicine in the world were thrown into the sea, it would be bad for the fish and good for humanity"

~ O.W. Holmes, (Prof. of Med. Harvard University)

"Every drug increases and complicates the patients condition."

~ Robert Henderson, M.D.

"The greatest part of all chronic disease is created by the suppression of acute disease by drug poisoning."

~ Henry Lindlahr, M.D.